Chalmit 샬밋 Sterling II Luminaire 기술사양
안녕하세요 TIATIP 입니다. 오늘 이시간에는 샬밋 Fluoresent 방폭조명가운데 Chalmit Sterling II Luminaire 제품에 대해 살펴보도록 하겠습니다.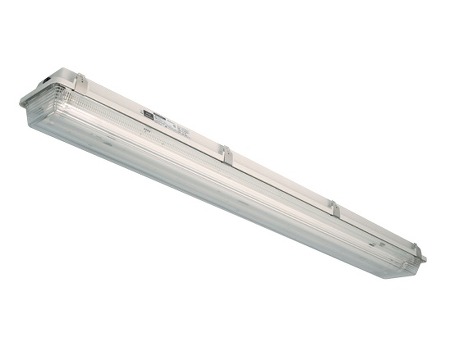 Chalmit Lighting
Fluorescent
Sterling II Luminaire
Explosionproof
Zone2 Exn Fluorescent
ATEX CATEGORY 3
The sterling II is a quality and cost effective luminaire designed to provide instant glare free white light for Zone 2 hazardous areas.

The GRP body and polycarbonate diffuser is secured with multiple stainless steel clips to ensure good corrosion resistance and allow rapid access for installation and maintenance. The protection is Ex n with IP65 sealing.

The sterling II is designed as a single product for both Gas & Dust atmospheres and is certified under the ATEX 94-9-EC directive for Categories 3 G and 3 D. The range is also IECEx compliant.

The Sterling is suitable for T8 tubular fluorescent lamps in 18/36/58W sizes. Electronic high frequency control gear is fitted as standard.
CAT REF.
ST2N/136/BI
ST2N/136/BI/EM
ST2N/158/BI
ST2N/158/BI/EM
ST2N/218/BI
ST2N/218/BI/EM
ST2N/236/BI
ST2N/236/BI/EM
ST2N/258/BI
ST2N/258/BI/EM
NPRO4-0008
NPRO4-0012
NPRO4-0022
S3004-100001
S3004-100003
S3004-100004
SPOL4-100004
SPOL4-100005
SPOL4-100006
Technical Data(Datasheet)

Sterling II Hazardous.pdf
Notice : Specification are subject to change without notice.
주의사항 : 소개된 제품 및 시스템의 사양, 재질, 치수, 기타 기재 내용은 제조공급사의 사정이나, 성능향상을 위해 예고 없이 단종, 대체되거나 변경되는 경우가 있으므로 양해를 부탁 드립니다. 기타 문의 및 상담은 하기 전문대리점을 통해 진행해 주시기 바랍니다.
국내 기술지원 및 구매상담
CUSTOMER SUCCESS IDK
CS CENTER 010.5353.9110

Chalmit
,
chalmit light
,
Chalmit Lighting
,
Hubbell
,
Luminaire
,
sterling
,
sterling II luminaire
,
방폭
,
방폭등
,
방폭라이팅
,
방폭조명
,
샬밋
,
샬밋라이트
,
샬밋라이팅
,
셜밋
,
셜밋라이트
,
셜밋라이팅