TnB EMT Conduit Fittings TC121US 기술사양
안녕하세요 TIATIP 입니다. 오늘 이 시간에는 티앤비의 EMT Conduit Fitting TC121US 사양에 대해 살펴보도록 하겠습니다.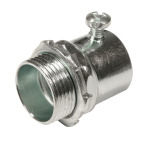 Thomas&Betts
T&B, TnB
EMT Conduit Fittings
Description
1/2 inch Set Screw Connector, Steel-Zinc Plated, Concrete tight. For use with EMT Conduit.
Features
- Steel construction for strength and durability
- Electroplated zinc finish for corrosion protection
- Set-screw couplings and connectors are for use in dry locations and are concrete-tight when taped
Application
For use with EMT conduit
CAT No.
TC121US, TC-121US, TC-121-US
Notice : Specification are subject to change without notice.
주의사항 : 소개된 제품 및 시스템의 사양, 재질, 치수, 기타 기재 내용은 제조공급사의 사정이나, 성능향상을 위해 예고 없이 단종, 대체되거나 변경되는 경우가 있으므로 양해를 부탁 드립니다. 기타 문의 및 상담은 하기 전문대리점을 통해 진행해 주시기 바랍니다.

국내 상담문의 및 기술지원
CUSTOMER SUCCESS IDK

ABB
,
Conduit
,
Conduit Fitting
,
EMT
,
emt conduit fitting
,
emt fitting
,
T&B
,
tc121us
,
Thomas&Betts
,
tnb
,
토마스앤베츠
,
티앤비
,
티엔비