티앤비(티엔비), T&B Fittings, Shureflex Nylon Liquidtight Conduit System 자료
안녕하세요 TIATIP 입니다.
오늘 이 시간에는 티앤비(티엔비) T&B(Thomas&Betts,TNB)의 Fitting류 가운데 Shureflex 제품을 살펴보겠습니다.
Fast and Flexible Protection for Electrical Cables
Shureflex™
Nylon Liquidtight Conduit System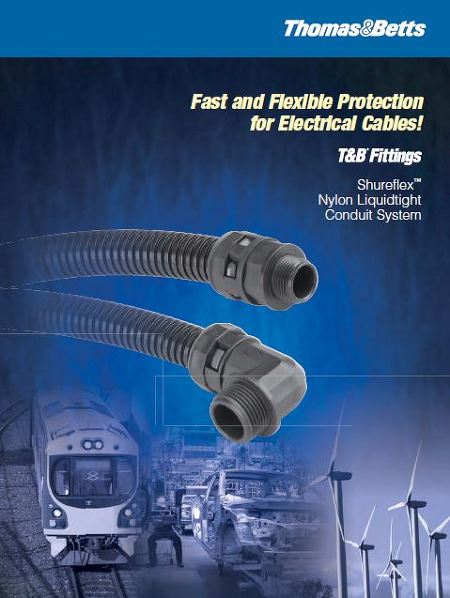 Quick and Secure One Piece Fitting Installation With No Tools Required!

The new line of Shureflex™ Nylon Liquidtight Conduit and Fittings
from Thomas & Betts provides all of the benefits of a halogen-free,
watertight system for protection of electrical cables-plus hasslefree
installation to save you time and money.

With its unique, self-locking mechanism, the Shureflex™ system enables quick and secure installation without tools. Simply push the fitting onto the conduit, and you've achieved an IP66-rated seal with superior mechanical strength. For a higher IP rating, use the same fitting; just add a sealing washer to the fitting
and an O-ring to the conduit. Now you've achieved IP68 and IP69K
protection. Disconnecting is just as easy-press the release ring on
the fitting and twist and pull out the conduit. No tools are needed, and you
can reuse both conduit and fittings.

The T&B® Shureflex™ Nylon Liquidtight
Conduit System includes three grades of conduit to meet varying flexibility
and crush-resistance needs. Choose among straight and 90˚ fittings with
NPT and ISO threads, T fittings, Y distributors and a variety of other available fittings for special applications-plus a full range of accessories like sealing washers, O-rings, locknuts and mounting brackets-to meet all of your needs for safe, secure and watertight connections.
◎ Flexible, lightweight Polyamide 6 or 12 (PA6 or PA12) construction
◎ Halogen-, phosphor- and cadmiumfree material-ideal for use in confined spaces
◎ UL94V-2 or UL94HB flammability rating for safety
◎ Achieve IP66, IP68 and IP69K watertight ratings with just one fitting
◎ Wide operating temperature range of -40˚ C to 105˚ C or -50˚ C to 90˚ C
◎ Complete system includes three grades of conduit, a variety of fittings
and accessories
◎ UL Recognized
Applications:
◎ Wind turbines
◎ Passenger rail
◎ Shipbuilding
◎ Robotics
◎ Aviation
◎ Automotive
◎ Machine Builders
◎ Tunnels
◎ Telecom
◎ Confined Spaces
◎ Use Indoors or Outdoors


Shureflex Nylon Liquidtight Conduit System.pdf

T&B Products Lineup Company Profile 2011EN IDK.pdf
T&B, TNB, TaNdB
Thomas&Betts, ThomasaNdBetts
티앤비, 티엔비, 티앤드비, 티엔드비
토마스앤베츠, 토마스앤배츠, 토마스엔베츠, 토마스엔배츠
토머스앤베츠, 토머스앤배츠, 토머스엔베츠, 토머스엔배츠
국내 기술지원 및 구매상담처
CUSTOMER SUCCESS IDK

fittings
,
IDK
,
jadongwha
,
liquidtight conduit system
,
Shureflex
,
T&B
,
T&B Fitting
,
T&B Fittings
,
Thomas&Betts
,
ThomasandBetts
,
tia
,
tiatip
,
TIEx
,
tip
,
tis
,
tnb
,
토마스앤배츠
,
토마스앤베츠
,
토마스엔배츠
,
토마스엔베츠
,
피팅