T&B Ty-Met Releas Cable Tie YRL-5-150-BC 사양소개
안녕하세요 TIATIP 입니다. 오늘 이 시간에는 티앤비의 케이블타이 시리즈 가운데, Ty-Met Releas Tie, YRL-5-150-BC 제품사양에 대해 살펴보도록 하겠습니다.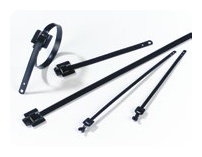 Thomas&Betts, 토마스앤베츠
T&B, TNB, 티앤비
Releasable Type
Stainless steel cable ties
Ty-Met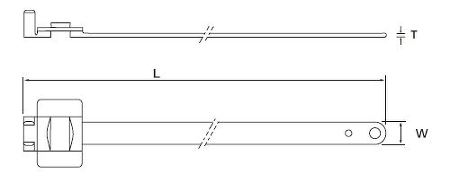 Characteristics
The Releasable Type stainless steel ties from ABB have a unique buckle design that allows the ties to be unfastened for re-use.
- Releasable and re-usable
- Corrosion resistant 316 grade stainless steel for high mechanical and chemical durability
- Fully coated version with non-toxic, Halogen free Polyester coating, for a superior protection of cables and installer's hands and for an improved insulation between dissimilar materials
- Fast, easy and reliable installation - can be installed by hand and if necessary, the slots at the end of the tie allow the use of a hook-type tool
- The additional ears can be bent back over the fastened tie to increase the tensile strength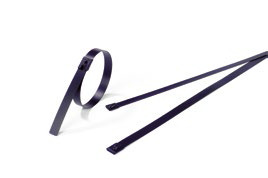 Applications:
Installation of cables and pipes in extreme conditions and hazardous areas, indoor and outdoor, such as: petrochemical and food processing industries, power stations, mining, shipbuil-ding, offshore and other aggressive environments
Technical Data
T&B, TNB, THOMAS&BETTS, CABLE TIES, TIE, TY-MET, TY-RAP, YRL-5-150-BC, YRL-5-230-BC, YRL-3-330-BC, YRL-5-450-BC, YRL-5-650-BC, YRL-10-150-BC, YRL-10-230-BC, YRL-10-330-BC, YRL-10-450-BC, YRL-10-650-BC, YRL-10-750-BC, YRL-10-900-BC

ABB LPCW Fastening Master CAT 2014.pdf

Ty-Rap Cable Fastening System.pdf

Fastening.PDF
주의사항 : 소개된 제품 및 시스템의 사양, 재질, 치수, 기타 기재 내용은 제조공급사의 사정이나, 성능향상을 위해 예고 없이 단종, 대체되거나 변경되는 경우가 있으므로 양해를 부탁 드립니다. 기타 문의 및 상담은 하기 전문점을 통해 진행해 주시기 바랍니다.
국내 상담문의 및 기술지원
CUSTOMER SUCCESS IDK