Hawke Exd Connector, MK IV ControlEx 기술사양
안녕하세요 TIATIP 입니다.
오늘 이 시간에는 호크 방폭커넥터 제품군 가운데, Contrl 관련 애플리케이션에 적합한 Hawke MK IV ControlEx 시리즈를 살펴보도록 하겠습니다.
HAWKE
Range For Harsh and Hazardous Locations
Hazardous Area Connector
MK IV ControlEx
IECEx/ATEX Certificate
Note: Inline connector receptacle (CR) also available
Overview
The 4th generation ControlEx has been designed as a result of over 20 years of plug-and-socket experience. Manufactured in Stainless steel, the connectors provide unrivalled durability in hostile environments.
Both ATEX/IECEX, GOST & NEC certified, the connectors are Exd rated with an Ingress Protection rating of IP66 / IP67 and have industry leading DTS01 deluge protection.
The wide range of insert variables can handle up to 60 cores.
Other improvements include an all-new padlock facility, allowing the connectors to be securely locked to prevent accidental un-plugging of equipment and improved secure cap fixings.
The 4th generation ControlEx maintains many of the original features which made its predecessor extremely popular, including a variable keying system to prevent accidental cross-mating, modular gold-plated field crimpable inserts for ease of wiring and a fully inspectable flameproof barrier providing direct inspection of the flameproof seal.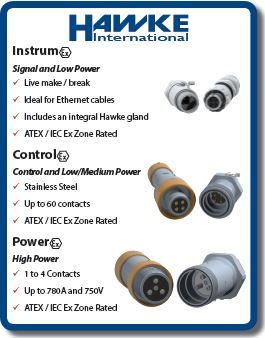 Tamb: -40°C to +60°C.
II2 GD Exd IIC Gb, Extb IIIC T95Db.
IP66, 67
DTS01 deluge protected.
Certificate No's Baseefa12ATEX0014X & IECEx BAS 12.0006X.
ControlEx Features
(1) Easy Fieldwireable
Pin and socket inserts are numbered front and back to assist wiring and avoid
termination errors. Crimp and solder inserts available.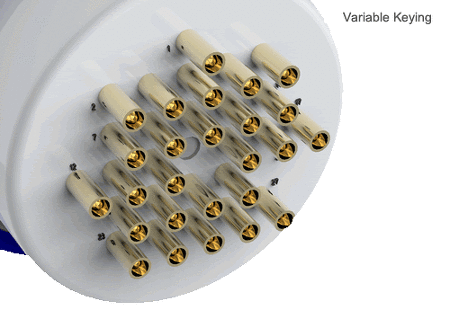 (2) Internal Keyway Spacer
Eases accessibility for termination as tube fitted after termination complete,
along with allowing easy installation into the required keyed position (See (4))
(3) Locking Pin
Optional locking pin provides the facility for mated connectors to be permanently
locked, via the use of a padlock, ensuring they cannot be separated under load. (Padlock not supplied)
(4) Keying Position
The unique visual 5 position insert keying system (3 on Ex16) along with the integral machined keyways prevent contact damage and ensures safe use by eliminating the possibility of misconnection of adjacent circuits.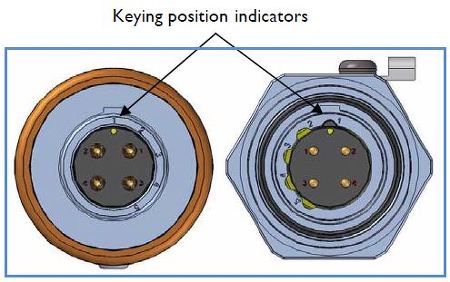 (5) Running Coupler
Allows the connector to be installed onto a pre-assembled cable gland. Connector is rear loading and includes locking engaging nut.
(6) Acme Thread at Mating Interface
Unique ACME thread offers a smooth and quick fully mating action.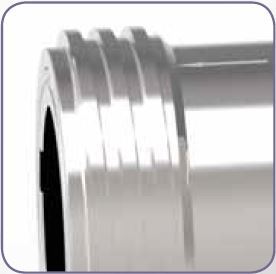 (7) Fully Inspectable Flameproof Barrier
Provides direct inspection of the flameproof seal and offers users the peace of mind that the connector is safe for installation.
(8) Anti-Rotation Device
Connector plugs and receptacles come complete with anti-rotation ring, which
when fitted between the connector and gland, helps to eliminate the possibility of the gland loosening, locking this in position.
Technical Data

ControlEx MKIV Spec.pdf

ControlEx MKIV Hookup Procedure 01.pdf

ControlEx MKIV Hookup Procedure 02.pdf

0.Ex Connectors Master Catalogue 20130819.pdf
국내 기술지원 및 구매상담처
CUSTOMER SUCCESS IDK

controlex
,
exd connector
,
explosionproof
,
Hawke
,
Hubbell
,
IDK
,
jadongwha
,
MKIV ControlEx
,
tia
,
TIEx
,
tip
,
tis
,
방폭
,
방폭커넥타
,
방폭커넥터
,
방폭콘넥타
,
방폭콘넥터
,
아이디케이
,
허벨
,
호크