T&B Shield-Kon Manual Crimp Tool ERG740 제품사양 리뷰
안녕하세요 TIATIP 입니다.
오늘 이 시간에는 T&B Shield-Kon 의 One-Piece Connector 체결에 사용되는 Application Tool 인 ERG740 사양과 관련 Dies 를 살펴보도록 하겠습니다.
Thomas&Betts
Shield-Kon
One-Piece Connector
Hand Tool
ERG740

Description : Crimps Shield-Kon One-piece RSK Connectors
Features : Ergonomic hand tool with Shure-Stake mechanism.
Maintains voltage and is easy to install
Shield-Jon RSK Connectors

How to use connector die and tool selection chart:
1. Use a calibrated measuring tool lightly over shield for most accurate measurement. Rotate shielded wire to pick up high spots on cable. Use "Shield Diameter" column to match the measured dimension.
2. Select connector and die for ERG740 tool.

NOTE: 1. Do not solder-dip ends of ground leads.
2. For ground wire combinations not covered in table, consult Technical Service.
Thomas&Betts
T&B
Shield-Kon
ERG740
Comfort and versatility!
Ergonomic Hand Tool
Robust construction: metallic frame, partially covered with plastic
• Use with metal dies (see page H-7) for low-, medium- or high-volume applications
• All the dies are easily interchangeable (to be ordered separately)
• Parallel action crimp
• ShureStake® mechanism: once pressing has commenced, the tool can
be re-opened only after successful completion of the crimping cycle
• Supplied in a plastic case with:
– 1 tool
– 1 benchmount stand for easier use in volume production
– 1 gauge (Cat. No. RSK-LEHRE) for instant selection of the die and the connector to be used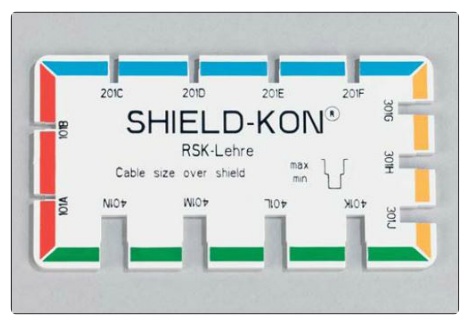 Catalog Number & Technical Data
T&B, Thomas&Betts, TnB, Shield-Kon, Shieldkon, RSK, ERG
Connector & Color CAT No.:
RSK101 Red., RSK201 Blue, RSK301 Yellow, RSK401 Green
Application Tool CAT No.: ERG740
Metal Dies for ERG740 CAT No.: D-101A, D-101B, D-201C, D-201E, D-201F, D-301G, D-301H, D-301J, D-401K, D-401L, D-401M, D-401N
Die Gaue CAT No.: 101AG, 101BG, 201CG, 201DG, 201EG, 201FG, 301CG, 301HG, 301JG, 401KG, 401LG, 401MG, 401NG

ERG740.pdf

Shield-Kon 2014XXXX Section H.pdf
Note : Specifications are subject to change without notice.
소개된 제품 및 시스템의 사양, 재질, 치수, 기타 기재 내용은 제조공급사의 사정이나, 성능향상을 위해 예고 없이 단종, 대체되거나 변경되는 경우가 있으므로 양해를 부탁 드립니다. 기타 문의 및 상담은 하기 전문점을 통해 진행해 주시기 바랍니다.
국내 상담문의 및 기술지원
CUSTOMER SUCCESS IDK