Killark, Switchrack Assemblies, Distribution Equipment, DE26
안녕하세요 TIATIP 입니다.
오늘 이 시간에는 KILLARK 의 스위치랙, 분산보드 시스템관련 애플리케이션을 살펴보도록 하겠습니다.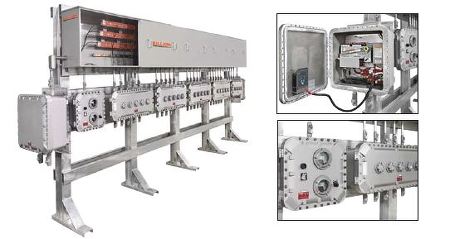 Applications
• Totally wired motor control center
• Hazardous locations due to the presence of flammable gases or vapors,
combustible dust or easily ignitable fibers and flyings, and areas subject
to corrosion, weather and dampness
• Petroleum refineries, chemical and petrochemical plants with indoor and
outdoor processes
• Applications requiring overcurrent and short circuit protection of lighting,
appliances, heating and motor circuits
Features
• NEMA 3, 4X (optional) rated for protection from hose directed water and
corrosion
• Completely assembled and wired for customer connections to load side of
starters and breakers
• Single sided or double sided assemblies per customer specification
• Killark components supplied include series EXB, B7C, B70, D2L, B7L, GR,
HKB, D2P, B7P, EZ, VM, EM, ENY, EYS and others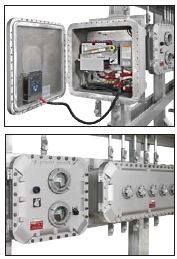 Standard Materials
• Enclosures: Copper-free aluminum (less than 4/10 of 1%)
• Bus Enclosure (when supplied) is painted steel or stainless steel
• Frame: Steel (Hot Dipped Galvinized) or Aluminum. All welded construction
• Bus Bars: Copper, bare or insulated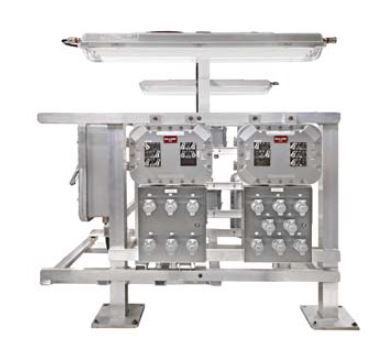 Ordering Information
• Supply one line diagram or bill of material and Killark will do the rest.
Assembly drawing and wiring diagram will be supplied for customer approval.
Self Sufficient Power Supply
Provides a mix of 120/240V and 480VAC receptacles and includes
panel boards and one main shut off.
May be supplied with trailer as mobile unit or used at a permanent location.
Optional Components
• Circuit breakers
• Automatic Transfer Switch
• Motor Starters
• Contractors
• Junction Boxes
• Control Stations
• Meter/Instrument Enclosures
• Ground Detection
• Panelboards
• Welding and Convenience Receptacles
• Photo Cells
• Light Fixtures
• Transformers
• Space Heaters

Killark Distribution Equipment DE.pdf

국내 기술지원 및 구매상담처
CUSTOMER SUCCESS IDK
Killark, Factory Sealed Controls, SEAL-XM Series

(0)

2013.10.04
Killark, 킬락, WH Series, Fittings, Conduit Hubs in Stainless Steel

(0)

2013.10.04
Killark, Switchrack Assemblies, Distribution Equipment, DE26

(0)

2013.07.14
Killark, GFCS시리즈, Distribution Equipment, Ground Fault Control Station, Factory Sealed, DE25

(0)

2013.07.14
Killark, GCBB시리즈, Distribution Equipment, Circuit Breaker Load Centers, DE24

(0)

2013.07.14
Killark, EXBLI/EXBPI시리즈, Distribution Equipment, IEC Circuit Breaker Panelborads, DE22

(0)

2013.07.14

distribution equipment
,
explosion
,
explosion-proof
,
explotionproof
,
Hubbell
,
hubbell-killark
,
IDK
,
jadongwha
,
Killark
,
switchrack
,
tiatip
,
TIEx
,
방폭
,
아이디케이
,
킬락
,
허벨